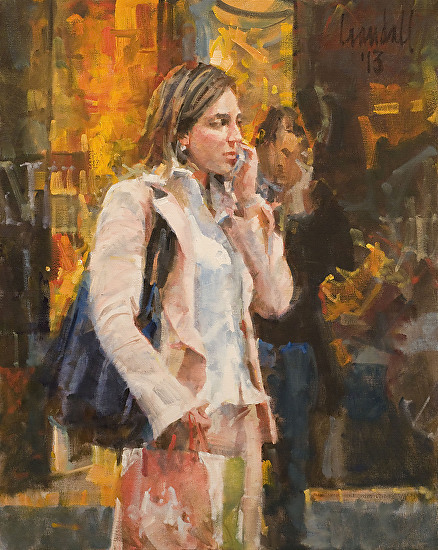 "Girl in Pink Jacket" / oil on canvas, 20" x 16"
Jack Meier Gallery, Houston, Texas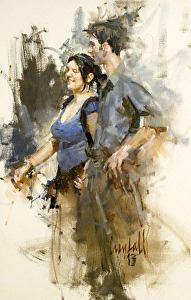 "Study of Young Couple, Milano" / oil on canvas, 20" x 12.75"
Finalist, RayMar Fine Art Competition, February 2013
Judge's Comments: It is not easy to paint happy people and get away with it. To me, James captured real people going somewhere with a strong visual concept. James not only achieves a beautiful sketch here, but does it in an engaging and painterly way. - Nancy Guzik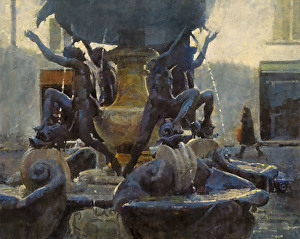 " Fontana delle Tatarughe (The Turtle Fountain), Roma" / oil on canvas, 24" x 30"
has been accepted for the California Art Club's Gold Medal Exhibition
"I am impressed by anyone that tackles subject matter that Sargent did so well! I love the notan arrangement in this piece. Beyond that, the range of gorgeous blues and violets set within the darks of the wet marble makes me salivate! Wonderful color harmonies of blues, violets and russets throughout and the lone figure really adds a narrative dimension that would otherwise be missing. Every aspect has been very thoughtfully executed." - Jill Carver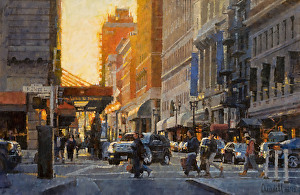 "Post Street at Powell (San Francisco)" / oil on canvas, 24" x 36" In the studio, slated for OPA National Exhibition, 2013.