Piazza San Michele (Lucca), oil on mounted linen, 19.5" x 29"
On hold for juried event.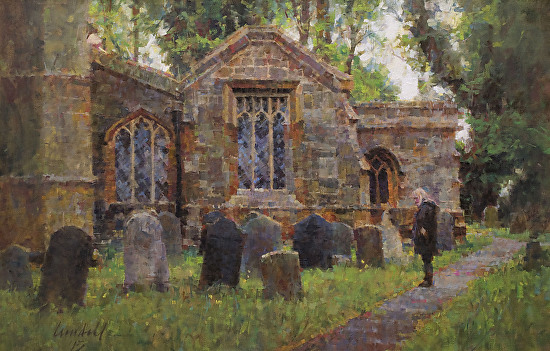 Church at Yelvertoft (Northamptonshire), oil on canvas, 18" x 28.5"
RayMar Art Finalist, January 2015

Judge's Comments: Evocative, moody painting – delicate control of mid-range values. The architecture is beautifully rendered and the figure is so subtle that it takes a moment to see her standing at the side of the graveyard. Wonderful touches of bright color tucked into the grays to add interest and liveliness to the painting. Unique brush handling that is distinct to James' work. - Kathleen Dunphy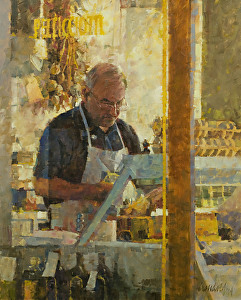 Poultry Merchant, oil on canvas, 30" x 24"
RayMar Art Finalist, July 2014

Judge's Comments: A masterful vignette painting, vaulted into the realm of greatness by what looks to be absolute control of brushwork, edges and underpainting. The color harmonies make one swoon, and the fact that we are looking through a shop window is telegraphed intelligently and subtly (the vertical band on the extreme left, the lettering overwriting the hanging onions, the vertical color variation on the shopkeeper's arm and shirt...). I'd like to see this one in real life. Benissimo! - Charlie Hunter