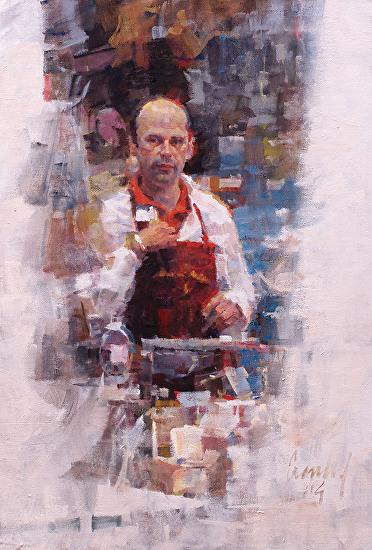 Man at the Cheese Counter, oil on mounted linen, 20.125 x 13.6 
On Hold for New Work show, Gardner/Colby Galleries, Naples, Florida
RayMar Art Finalist, October 2014

 Judge's Comments: Love all the temperature shifts in this painting. subtle temperature shifts help change the plan on the face and these are done wonderfully. Love the abstract quality of the background. It's not overworked. The little spots of red behind his face are brilliant. - Elizabeth Robbins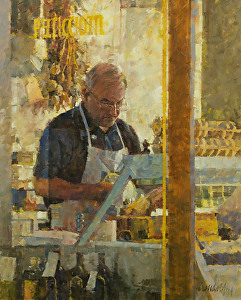 Poultry Merchant, oil on canvas, 30" x 24"
Sekula's Fine Art and Antiques, Sacramento, California
RayMar Art Finalist, July 2014

Judge's Comments: A masterful vignette painting, vaulted into the realm of greatness by what looks to be absolute control of brushwork, edges and underpainting. The color harmonies make one swoon, and the fact that we are looking through a shop window is telegraphed intelligently and subtly (the vertical band on the extreme left, the lettering overwriting the hanging onions, the vertical color variation on the shopkeeper's arm and shirt...). I'd like to see this one in real life. Benissimo! - Charlie Hunter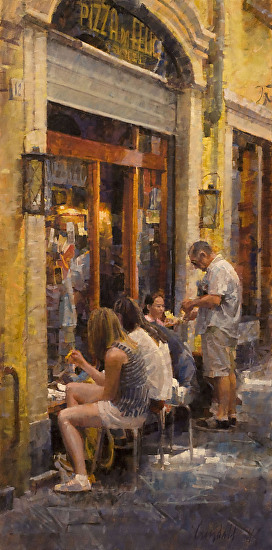 Pizza da Felice (Lucca), No. 2, oil on canvas, 36" x 18"
Winner Award of Excellence, Oil Painters of America Western Regional, Carmel, California  SOLD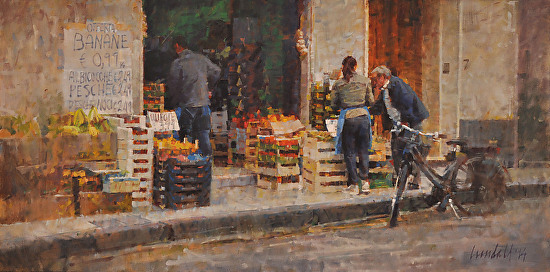 Fruit Vendors in Via Bacchettoni (Lucca), No.2, oil on canvas, 18" x 36"
Awarded Finalist, Boldbrush Competition (April, 2014) Juror: Aldo Balding
Exhibited at American Impressionist Society Annual, Abend Gallery, Denver, Colorado SOLD